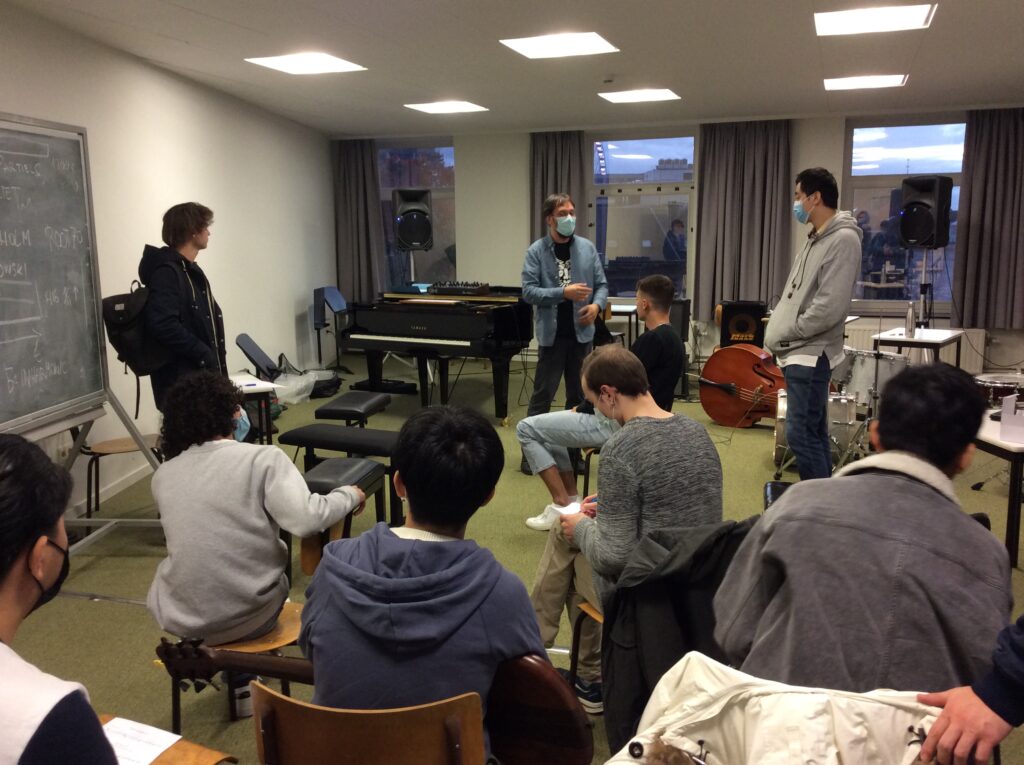 This was a long-desired moment come true! After months of solitary study and distance collaboration and teaching, I started a series of lessons at the Koninklijk Conservatorium Brussel about the research activity that I am carrying on at the jazz department. My partner in this journey is drummer Luis Mora Matus, who is also following his PhD trajectory at the KCB.
My focus so far has been doing jazz with techniques that come from spectral music, something that a few other jazzmen such as Steve Lehman and Frank Gratkowski have been exploring in later years. I am approaching the matter as a piano player and digital music creator, documenting my experiments as this new knowledge seeps into my artistic practice.
The goal of this sessions is to create a group of interest that can work on practices, improvisation, ensemble playing and repertoire. The workshop is intended to be practical and make the participants experiment on their instruments.
As for my part of the workshop in this first encounter, and after the mandatory introduction about what artistic research might look like for a student of our conservatory, it was mostly about explaining a few facts about basic sound physics and perception, making bridges with the concepts that the students were already familiar with. We talked about the perception of pitch, (in)harmonicity, and, of course, spectral music. We scratched the surface of some instrumental practices that might either enable the musicians to explore the overtones of their instruments, or to play inharmonic sounds, or to add microtones to their palette of pitches, in order to use their instruments to approximate effectively the chordal structures that may come out from spectral analysis.
The students were invited to do some personal research on their instrument in this direction, and I am curious to see whether they will have something to show us at the next meeting.